eXciteOSA – the device, the app and the patient support
The device
A comfortable one size fits all silicone mouthpiece delivers clinically proven NMES therapy to the tongue muscle with designed precision.
The app
Your therapy companion from initial setup to keeping your therapy on track. Control intensity, get guidance, reminders and more with eXciteAPP.
The patient support
We're alongside you all the way. Our sleep advocates check in regularly throughout your therapy so you never feel alone.
Part of your everyday
A quick and easy daytime therapy to help you sleep at night.
20 minutes a day
One 20 minute therapy session per day will significantly reduce snoring and improve mild obstructive sleep apnea within 6 weeks1-3.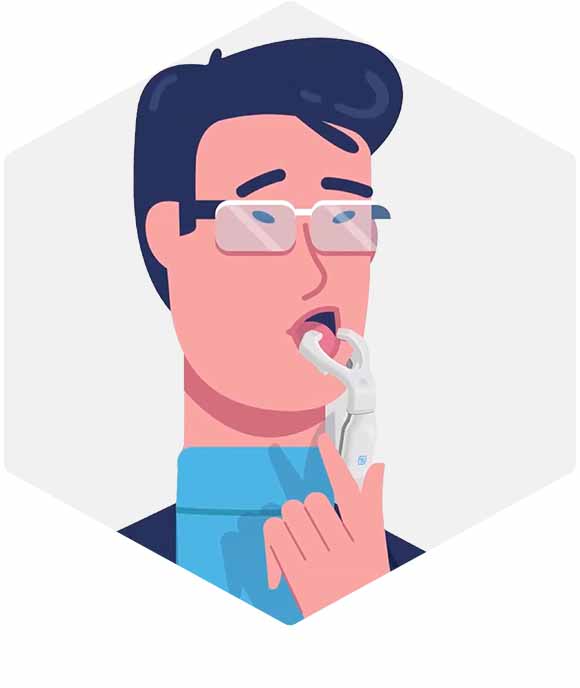 Easy to use
Sticking to the therapy is easy. eXciteOSA is simple and conveniently portable, so you can use it anytime during the day, anywhere!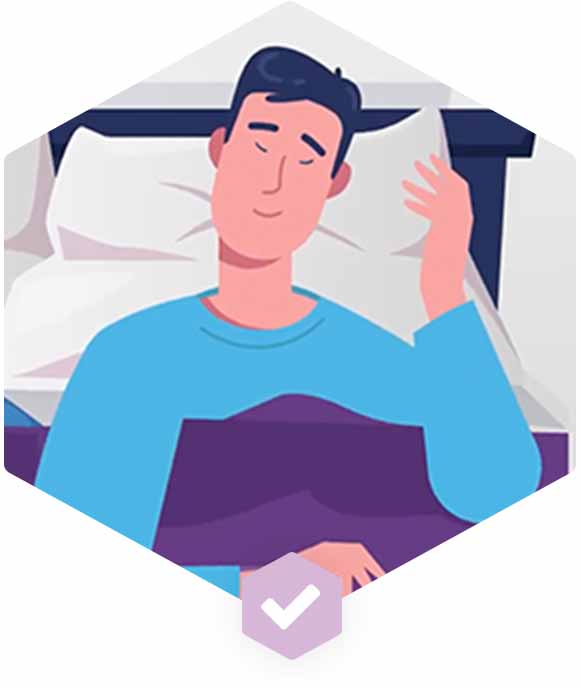 Sleep freely
Unlike night-time treatments, the effects of eXciteOSA daytime therapy last throughout the night, leaving you to sleep freely from night-time wearables.
eXciteOSA therapy
Retrain and maintain – What to expect from your therapy
Phase 1
Retrain
The goal over your first 6 weeks is to retrain your tongue. By week 6 you should be well on your way to a better quality of sleep1-3.
Phase 2
Maintain
With a retrained tongue, it's time to maintain the hard-earned benefits. Keep using the device at least a couple of times a week to maintain better sleep.
We're with you all the way
Patient support and access to our sleep advocates
Notifications
From email and text reminders to regular app notifications, we are with you throughout your therapy journey.
In app chat (24/7)
Around-the-clock in-app chat means our sleep advocate team is always there for you, leaving you free to use eXciteOSA wherever and whenever you want.
Phone 9am to 5pm
Whether you are stuck or prefer to talk to a person, you can call our sleep advocate team for personal support from 9am to 5pm.
Doug Roy
I like the simplicity of the design and ease of use, and have also had very quick and helpful replies in the case when I needed some customer support.
Kaen Morelli
The chat feature worked very well and they were very responsive to my questions. I think the device has helped me get more quality sleep and I hope to see even more improvements during the maintenance phase!
LW
The customer service team is top notch, is super responsive to concerns, and always does what it can to help. Highly recommend trying it out.
Are you a candidate for eXciteOSA therapy?
I need a prescription
If you haven't got a prescription for sleep apnea you will first need to take a home sleep test.
I have a prescription
Our partner providers will help you order your device so you can start your therapy.
References
Kotecha B, Wong PY, Zhang H, Hassaan A. A novel intraoral neuromuscular stimulation device for treating sleep-disordered breathing. Sleep Breath 2021;25(4):2083-2090.
Baptista PM, Martinez Ruiz de Apodaca P, Carrasco M, Fernandez S, Wong PY, Zhang H, Hassaan A, Kotecha B. Daytime neuromuscular electrical therapy of tongue muscles in improving snoring in individuals with primary snoring and mild obstructive sleep apnea. J Clin Med 10(9):1-11 (2021).
Nokes B, Baptista PM, Martínez Ruiz de Apodaca P, Carrasco-Llatas M, Fernandez S, Kotecha B, Wong PY, Zhang H, Hassaan A, Malhotra A. Transoral awake state neuromuscular stimulation therapy for mild obstructive sleep apnea. Sleep & Breathing (in-press; 2022).